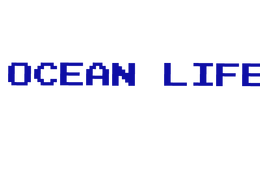 Hello and welcome to the Ocean Life Wiki, a wiki dedicated to Waterlife! We hope you enjoy our stay and help us by making new pages or contributing to the existing 28 pages we have here on the wiki!
What Needs To Be Done
Edit
What I shall be doing, and anyone else who'd like to contribute, will be writing down different kinds of fish, sea plants, shore life, etc.. Enjoy the pages contributed!
The oceans, rivers, ponds, lakes and more water types are full of life. whether it's a calm, almost invisible spec or a friendly, gentle Blue Whale, there is more to see than what comes, such as a weed next to the water, to the human eye. So go out and explore your Earth. You only live once, might as well live your life to the fullest.
Latest activity
Edit